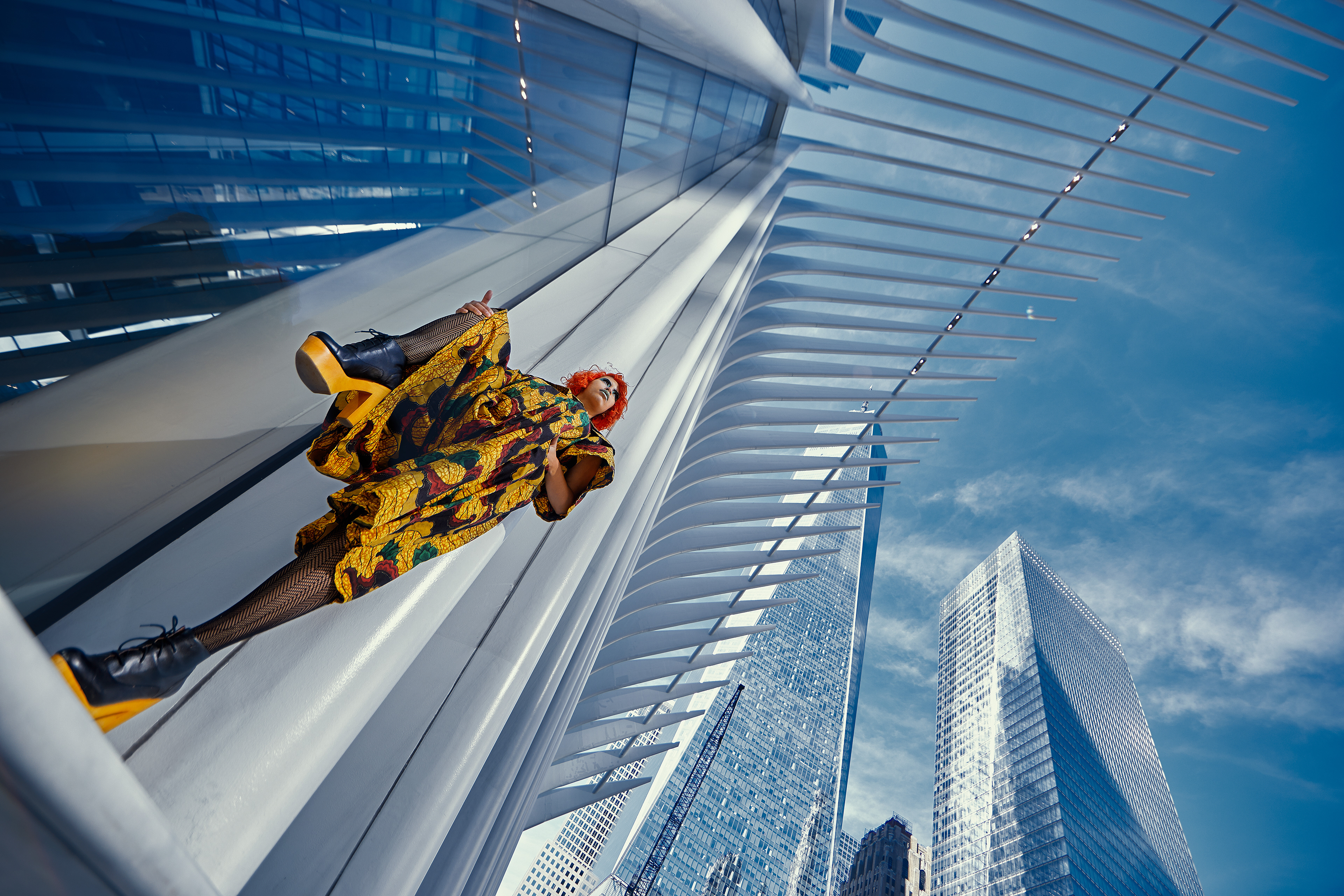 Giselle Manzano Ramirez is a multi disciplinary creator giving meaning to existence through design. She is an award winning Colombian graphic designer and illustrator as well as a fashion stylist, wardrobe designer and now fashion design enthusiast. After studying Graphic Design in Colombia, Giselle worked as freelance before flying over to the Museum of Modern Art ( MoMA) in New York City as an internship candidate. 
Her fashion project Le Panda Rouge's mission is to empower people through an exquisite, curated vintage clothing experience as well as being a platform to educate, inform and create awareness about fashion and textile waste. 
 She uses her graphic design, color psychology and semiotics expertise to give meaning to fashion through styling, curation, visual merchandising, social media management, photography and now up cycled fashion design featuring handmade embroidery, silk screen and block printing as well as hand painted garments.  
She believes that fashion is a narrative, a story wanting to be told, that incorporating history  into the clothes, and giving them a meaning is a must. She believes in the power of color psychology and how through its understanding  we can empower ourselves and those around us.  She also believes in the benefits of second hand clothing, vintage and up cycled fashion as an answer to fashion waste by reusing material that may otherwise end up in the landfill. And last but not least she believes in the feminist power of embroidery  while picking up a needle and thread, she joins a long line of women who have turned the domestic arts into a political and educational expression.  
Her client list includes Condé Nast, Four 32C, Weber Shandwick, Sensodyne, Circus Maximus, Brooklyn Center for the Arts, Judah International Dance Theater, Yiyi English, Brain Pop and Candy Pratts Price, Creative director of Vogue´s Magazine. In her fashion practice she has been working with Vintage Thrift West, United Jewish Council and  GG´s Social trade and Social Club as well as collaborating with Obinna Obiomma, acclaimed Nigerian photographer featured in Vogue Italia´s photo Vogue  as well as Simi Vijai, Nigerian editorial, portrait and documentary photographer featured in institutions such UNICEF, Avenir Magazine and WaterAid. She has also been working as a wardrobe designer for music videos and film including Jasmine Fuego and film director Alexandra Leinweber and collaborating with Polish SFX Make Up Artist  Katarzyna Zurawska, featured in publications such as Elements Magazine, Blouder Magazine and Fashion Week NYC and Brooklyn. 
She has received press from national and international media such as Adobe Illustrator, DesignTaxi, Digital Arts Online, RAD Africa, Fashion Snoops, Afro Punk, Teen Vogue among others. She has also given talks at conferences and institutions such as Pratt Institute, Colombian Embassy in NYC, and now Fashion Week segment ReFashion Week 2020 celebrating secondhand and sustainable fashion in New York City, through a series of events designed to challenge your style and ReFashion your world.